HOT TUBS & SPA's

We carry a wide range of industry leading Hot Tubs & Spas.  There is so much to love about owning a spa. Just pull back the hot tub cover and your spa is ready to go. Invite friends over to soak in your spa on a snowy evening, experience healing relief from warm-water jets or see romantic possibilities in the sparkling light of a waterfall. 
It is time to relax with a new Hot Tub!


---
Are you interested in a hot tub, but not sure where to start?
Get your FREE Hot Tub Guide and learn the 5 basic things you should look for when buying a hot tub.
Discover the benefits of a hot tub by booking a wet test.
Read about the difference between the Hydropool Self-Cleaning and the Serenity.
If you are in the market to find a hot tub to install at your home, condo or cottage, it is important to you are buying from a company you can trust.
Hydropool has been a Canadian Manufacturer of hot tubs for the last 30 years. It is a brand that is recognized worldwide for quality and innovation by setting the standard for innovation and design in the industry. Hydropool's premium lines of Canadian hot tubs are built for Canadian weather patterns and temperatures. They have the highest energy ratings in the industry due to the exclusive and innovative technology of the HydroWise Thermal Shield. Among hot tub manufacturers, Hydropool stands apart. It's dedication to innovation and continuous improvement has enabled them to create the finest products in the industry.  It has a natural fit for MckIe to sell the most reputable and well-built acrylic hot tubs in the industry.
A Hydropool Hot Tub is going to give you:
Time to reconnect
Time to relax
Time for family and friends
---
Reconnect

Life can be busy, demanding and stressful. Taking the time to rest and relax is often a distant thought in our day-to-day life. Since ancient times, the healing powers of water have been used to improve health and reduce pain. With today's hectic lifestyles, water and spa therapies have taken on greater importance, offering a natural and effective way to relax and reduce stress. You can literally feel the tension leave your body as you let the combination of warmth, pulsating jets and the natural buoyancy of water do their magic.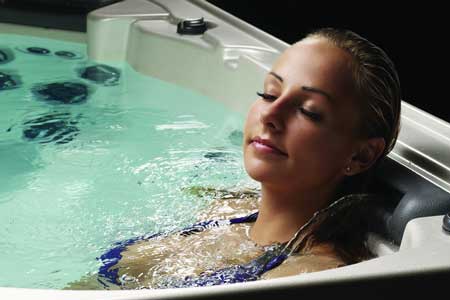 ---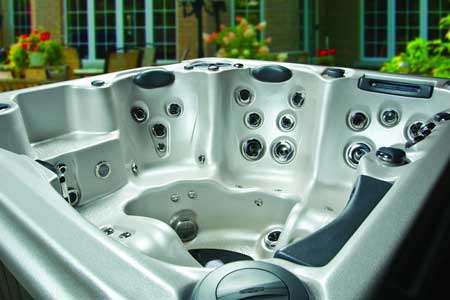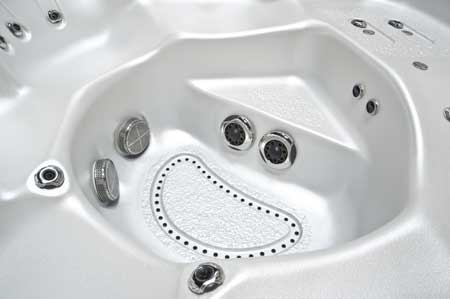 Start or end your day right with a relaxing soak in a Hydropool hot tub. This will help to improve circulation and reset your mental state of mind.  Soothing tired and sore muscles improves flexibility and makes for a restful night sleep. You will be better prepared to face a hectic day at work, a workout at the gym or a round of golf at the club.

Multi-level Seating
The wide variety of deep bucket seats, higher cool down seats, comfortable bench seats and body form loungers available on our Self-Cleaning hot tubs gives everyone a seat of choice.

Never-float Lounger
Soft, comfortable pillows gently support your head and neck while our wide lumbar support seats cradle your body.

Recessed Jetting
Hydropool's unique Science of Immersion hydrotherapy system adds the final touch, massaging every inch of your body.

Large Footwells
Extra large foot wells allow you to stretch out, relax and enjoy.


---
Time for family & friends
A hot tub is a place to enjoy some family down time. Life gets busy with work, schedules and activities. Take the time to spend some down time in your Hydropool hot tub catching up on the most important people in your life. When you're relaxing, you enjoy life more. It is easier to converse, share intimacies, smile and laugh. You'll look forward to your times and will create memories. Indoors or out, this versatile line of hot tubs can be conveniently placed in your home, solarium, balcony, backyard deck or condo. The self-cleaning, low-maintenance design allows you to concentrate on the more important things, like relaxing with friends and family.
McKie wants to make it easy for you to find the hot tub of your dreams. At our retail store in Pembroke, Rob Irvine will help you get the most for your money. He is ready to make the process of buying simpler for you.
As with any major purchase, remember to:
Educate yourself. Download Hot Tub Buyer's Guide
Find a hot tub that suits your needs. Email Rob directly
The best way to know that a Hydropool hot tub is right for you is to experience one first hand. Call us and you can take a WET TEST.
---
Book a Wet Test
Why is the wet test important? Well, comfort is the key to relaxation. You need to be comfortably positioned before you can seek relaxation. By getting into a hot tub at our showroom, we can allow you to experience the Hydropool comfort.
Hydropool has designed their hot tubs with therapeutic partners including Physiotherapists, Osteopaths and Chiropractors to ergonomically design the most comfortable underwater seating and lounging in the hot tub industry.
A few key design features on comfort include:
Barrier-free seating – designed to fit every body shape and size in the family in the most comfortable way and also to enable you to travel through the hot tub easily to experience a complete body massage.
Never float loungers – these hot tub loungers are designed so that your feet are positioned above your center of gravity, which is favorable for lower body circulation.
Large foot wells  – depending on the number of people in the hot tub, Hydropool has designed its hot tubs with large foot wells to ensure each person has their own private comfort zone.